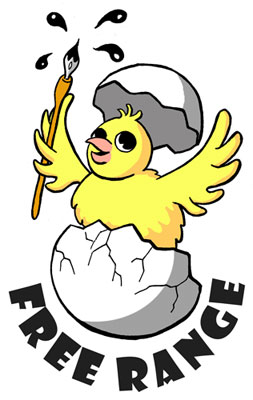 FREE RANGE is 2g's first National 10-minute play contest. We put out the call for brand new plays by Asian American playwrights and we found some exciting, challenging new voices. Now, we're pairing directors and actors with the playwrights to put these new works on their feet in staged readings. All these artists are getting the space to roam and play, free range style. We'd love for you to join us.
The plays:
Redbird by Jim Yang
The Duties and Responsibilities of Being a Sidekick by Eric "Pogi" Sumangil
Furball by Susan Soon Hee Stanton
The Joke by Miyoko Conley
Mermaids by Jessica Huang
Add Like Poke Tag by Boni B. Alvarez
Don Quixote at Tiananmen Square by Daniel Ho
Directors: Victor Maog, Colette Robert, Nandita Shenoy, Suzi Takahashi
Cast: Yung-I Chang, Jackie Chung, Ken Leung, Eugene Oh, Debargo Sanyal, Jon Norman Schneider, Ching Valdes-Aran, Nitya Vidyasagar
Friday, November 19th @ 8pm
Saturday, November 20th @ 3pm & 8pm
Admissions is FREE
The Flamboyan Theater
@
Clemente Soto Velez Cultural Center
107 Suffolk Street
Lower East Side
---
Support Free Range
We need your help in raising $500 to support the playwrights, actors, and artists in presenting these exciting 7 new works in November. Any additional support above our $500 goal will help us to provide commission to playwrights of 3 of the most promising plays to be turned into full-length staged readings this spring.